Soprano Titanium is the most advanced form of laser hair removal. With Soprano Titanium you can see the fastest and painless most effective form of laser hair removal. The Soprano Titanium, which can be applied 40% faster than Soprano Platinum, is the latest technology for permanent hair removal. Meet Soprano titanium, the latest version of laser hair removal for soft, smooth skin.
Soprano Titanium Laser Hair Removal
At Ilknur Altintas you will be treated with the Soprano Titanium laser. This is the most advanced and latest laser technology available today. This means hair removal is effective and virtually painless and the painful light flashes of previous laser technology are over. The Soprano Titanium laser sends a laser wavelength to the hair follicle, causing the hair follicle to lose its nourishing properties. Thus, the hair follicle disappears and the chance of growing new hair is impossible. ​
The Soprano Titanium laser is unique, and is the only laser that combines the three most effective laser wavelengths in one handpiece. The laser is also equipped with an ICE+ cooling system, which keeps your skin perfectly cooled during the treatment. The most unique aspect of the Soprano Titanium is the extra large 4Quattro treatment head, which makes it possible to perform the treatment even faster than ever. The Soprano Titanium laser is FDA approved, a very safe treatment.
The treatments can take place all year round. Whether you have light, dark or even tanned skin, or coarse or fine hair. By depilating with the Soprano Titanium laser, the result is silky smooth, hair-free skin for women and men.
SHR™ is the only clinically proven laser hair removal method that is virtually painless and is the safest laser hair removal method for all skin types, including dark and tanned skin. The unique gradual heating and single pulse delivery method effectively damage the hair follicle and hinder the growth of new hair while preventing injury to the surrounding tissue. SHR™ affects the skin's melanin using a unique method, allowing the procedure to be performed at any time of the year, as well as on tanned skin. In addition, sun exposure is less traumatic to the skin after SHR treatment.
ICE Plus™ is an advanced technology that continuously cools the skin and allows a controlled temperature range throughout the treatment. This cooling system is further developed with ICE Plus technology in Soprano Titanium compared to Platinum. The cold sapphire tip of the ICE Plus™ minimizes risks to the epidermis while retaining the skin's heat in the dermis, where the hair follicles are treated. The acne problem with classic laser hair removal is also eliminated with ICE Plus technology.
Soprano Titanium combines three most effective  laser wavelengths, Alexandrite, Diode, Nd:YAG . This allows us to target different tissue depth and anatomical structures within the hair follicle. Soprano Titanium is the safest and most effective hair removal treatment available today.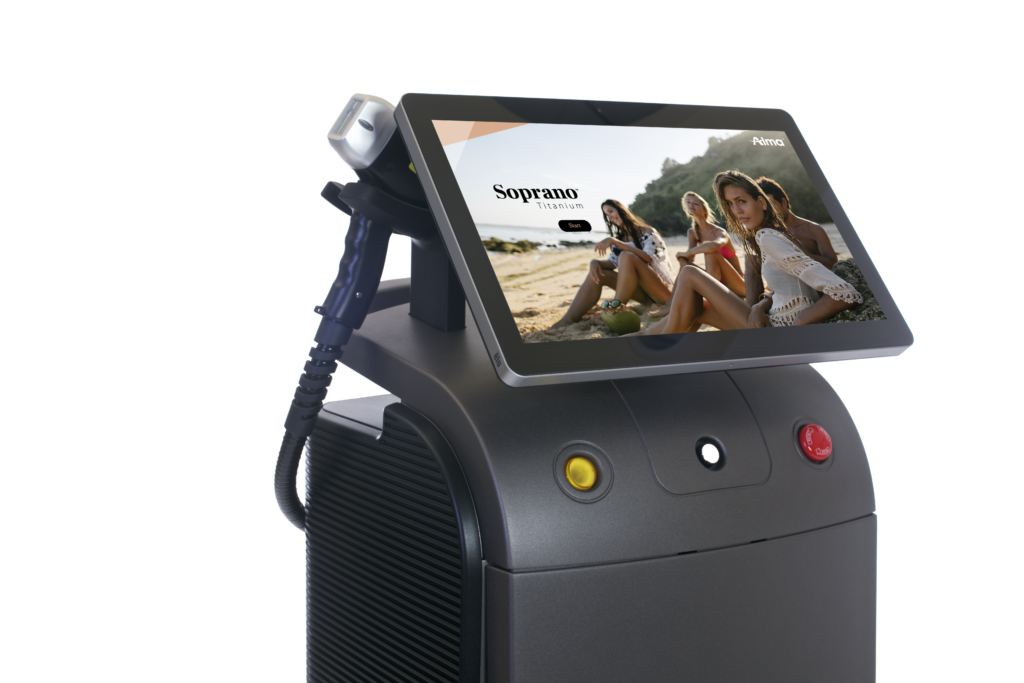 Frequently Asked Questions
Read the most frequently asked questions and answers about laser hair removal here
There are many questions about laser hair removal. We provide appropriate answers to the most frequently asked questions, which you can read below. Is your question not listed? Then contact us.
Frequently asked questions about laser hair removal
Sengul Taslibayir
2022-09-27
Memnunum ve herkeze tavsiye ediyorum kesinlikle
İk heb mijn mama moeten overtuigen voor haar wenkbrauwen te laten doen ,Was in het begin heel stressend was bang dat het niet mooi zoude zijn en nu is zij heeel te vreden over haar wenkbrauwen . Daar achter heb ik aan ilknur gevraagd of zij mij een permanent tattoo kan zetten op mijn arm eerst had zij gezegd dat zij het niet op het huid kan zetten ma ik wou het echt heel graag en uiteindelijk heb ik haar overtuigd en ik ben zo blij met het resultaat ervan 😇
Merve Yıldız Guzey
2022-09-05
Combibrows işlemi icin İlknur hanımı tercih ettim, sarışın bir bayanım işlem öncesi renk konusunda endişeliydim ancak ilk seyansdan sonra kaşlarımın iyileşmiş halını kimse anlamadı saç ve kaş rengimle İlknur hanımın kullandığı pigment çok uyumlu oldu,sonuçtan memnunum, çok doğallar görende işlem olduğunu anlamıyor , tavsiye ederim.
Bedankt Ilknur voor mijn prachtige wenkbrauwen!🧡✨
Didem Uckuyulu
2022-09-04
Ik ben zeer tevreden over mijn wenkbrauwen. Ilknur is zo professioneel in haar werk. Ze is een engel. Zeker een aanrader!
İlknur hanım o kadar yetenekli ki her defasında efsane yaratıyor ellerinize sağlık ilknur hanim
Heel erg lieve en zeer proffesionele vrouw, behandeld je goed en luisterd naar je wensen. Ben hier zeker tevereden en raad het iedereen aan!
Laserontharing wangen en volledige rug na 3 sessie al heel goed resultaat zeker een aanrader!